Understanding the need for a professional level in the Digital Printing area we have put our footsteps into the same. We now cater to all types of digital printing of Flex, Vinyl, Sunboard, Acrylic, UV, Cloth & other solutions. YES, THAT'S RIGHT "M/S SAJAN PRINTER AND SOLUTIONS" & "DIGICRAFT "Is your one stop solution for all your flex printing and digital printing needs.
Our unit is centrally situated which includes all new machinery of Solvent, Eco-Solvent, HP Latex & Lamination. All our machines are upgraded with the latest technology and are Fully Automatic.
Skilled Labour with prior experience of 5 to 10 yrs. The staff of 40 nos, 3 runners to serve your transportation and banking needs. Professional staff to do seaming for above 10ft & also for perfection in cut-outs.
We also do branding of school buses and the branding of retail outlets. Raw Material & Quality as per client requirement with competitive rates. We buy our raw materials from best suppliers, which give us confidence for right Gsm, mm & microns.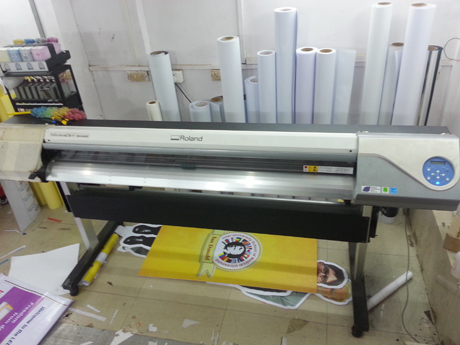 We are located at
"M/S SAJAN PRINTER AND SOLUTIONS" Andheri, Universal Industrial Estate, Behind Wadia High School, Opp Andheri Sports Complex, Andheri West, Mumbai.